The question of the future of mobility and our contribution to better strategies and concepts is growing.
We not only develop mobility concepts at the ICM, we also conduct research in the areas of e-mobility to make components better.
What will the mobility of tomorrow look like?
What drive concepts will there be?
How do we adapt to the dynamics of growing cities?
We address these and many other questions in this research field.
Micro Mobility
In urban areas, the need for emission-free and compact alternatives to conventional means of transportation is growing constantly. At ICM, mobile concepts in the spectrum of micro mobility have been researched and implemented holistically for over 12 years. In this context, the focus is primarily on the resource-saving use of raw materials, sustainability and longevity of the vehicles. In 2009, the INNVELO® vehicle brand was created within a network of companies for electrified mobility in urban areas. The brand develops two-, three- and four-wheeled vehicle concepts that are specially designed to meet the requirements of users depending on the application.
One of the fundamental criteria for the vehicle platforms to be developed is that they can be used on the road as well as on sidewalks and bike paths. In order to ensure that these requirements can also be met for vehicles >25km/h, the ICM is researching camera- and GPS-supported vehicle control systems in relation to micro mobility, which regulate the driving behaviour of the vehicle depending on the situation and location in accordance with traffic regulations.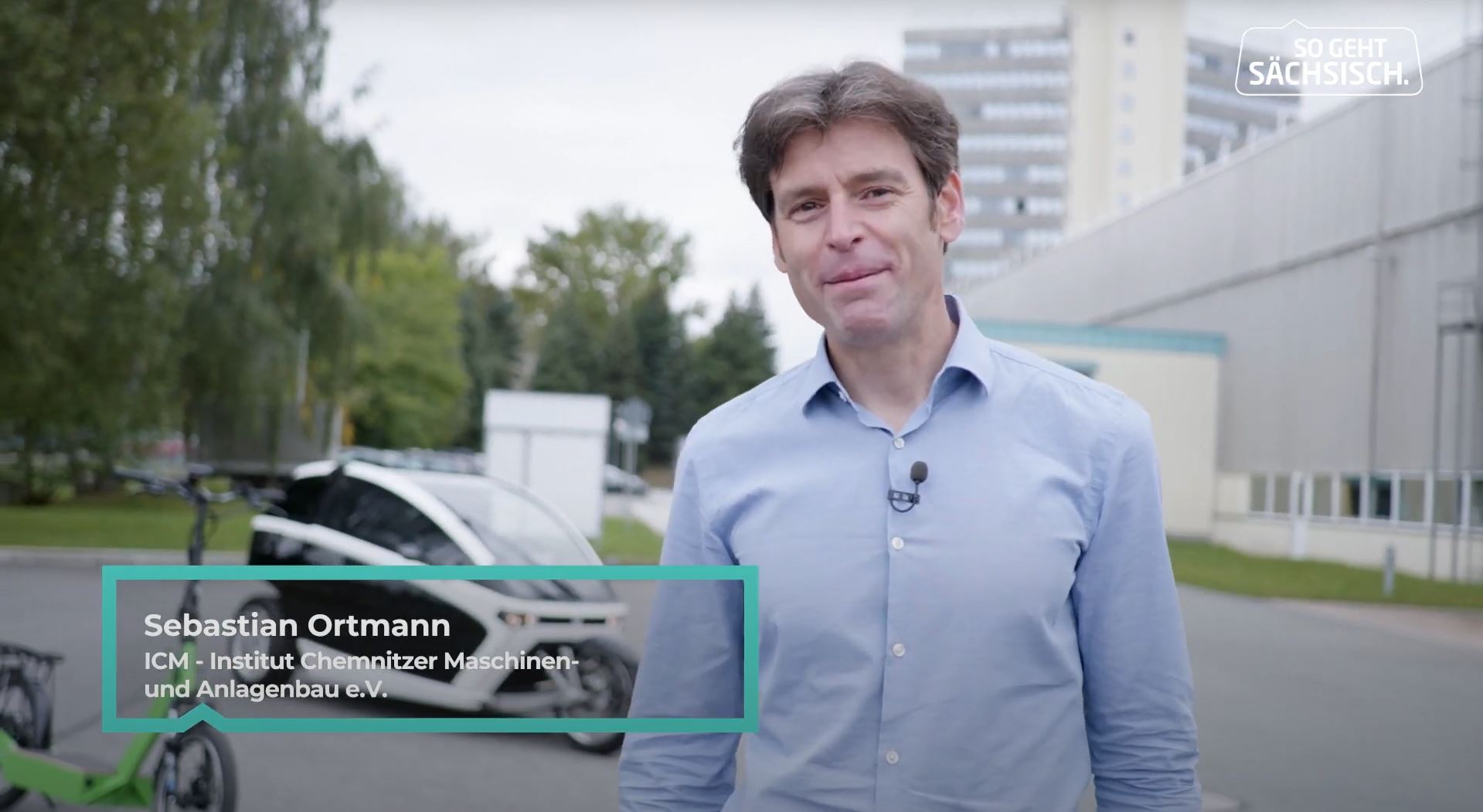 Dieses Video ist im erweiterten Datenschutzmodus von Youtube eingebunden, der das Setzen von Youtube-Cookies solange blockiert, bis ein aktiver Klick auf die Wiedergabe erfolgt. Mit Klick auf den Wiedergabe-Button erteilen Sie Ihre Einwilligung darin, dass Youtube auf dem von Ihnen verwendeten Endgerät Cookies setzt, die auch einer Analyse des Nutzungsverhaltens zu Marktforschungs- und Marketing-Zwecken dienen können. Näheres zur Cookie-Verwendung durch Youtube finden Sie in der Cookie-Policy von Google unter
https://policies.google.com/technologies/types?hl=de.
Vehicle Concepts
In the research field of mobility, the development of new vehicle concepts forms the central point of the departmental content for the demands on mobility of the future. In consortia with research partners from industry and science, platforms for vehicle demonstrators and vehicle components in the field of alternative means of transport are being developed as part of funding projects. Here, the requirements for the vehicle for the respective application are evaluated, implemented and tested as a realistic research function model. Within the next steps, further development takes place up to series production in compliance with the applicable legal standards and guidelines in cooperation with network partners or in form of newly founded companies.
Image: INNVELO Three is one of our examples of a resource-saving alternative means of transport for inner-city areas
Alternative drive concepts
The requirements for vehicles with conventional drives are becoming increasingly stringent in order to be able to meet the climate policy goals of the federal government in the future. Due to the accelerated change in mobility, the electrification of vehicles is rapidly gaining importance. Alternative drive concepts for battery powered electric and fuel cell-based drives are in focus of our research work. We want to make a decisive contribution to global decarbonization. Our engineers and scientific staff are available to assist interested companies when dealing with authorities or approvals of alternative drive system solutions and support them in the selection, evaluation or implementation of test procedures. Likewise, holistic vehicle platforms can be developed as functional research models for the integration and mapping of different drive systems. At the ICM, we use innovative processes and tools to create the conditions so that fleet operators and transport companies can use alternative drives with optimum efficiency and safety.
Images: INNVELO Four is a frame platform for fuel cell system applications in which subsystem developments can be tested in the holistic system in cooperation with HZwo e.V.